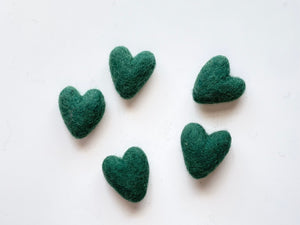 Adorable little felt hearts!

❤️ALL THE WOOLY DETAILS
Hearts are made from 100% hand felted wool.

❤️MEASUREMENTS
Approximately 4 cm

❤️ENJOY!
String them on a garland, put them in a bowl, give them as a gift...whatever you want!

❤️SHIPPING
All orders will be shipped in 1-3 business days.
Preferred method of shipping can be chosen at checkout.