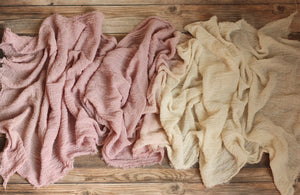 DOUBLE LENGTH & Double Dipped! A gorgeous two tone wrap half in Cameo and half in Cream. Two wraps in one!
HAND DYED UNIQUENESS
Each wrap is lovingly hand dyed section by section so each wrap is unique and will have some color crossover and a bit of a tie dye look.
MEASUREMENTS
from 75-90 inches long with plenty of stretch
**All cheesecloth wraps are hand dyed so colors may vary slightly vary. Edges are hand cut and raw for a natural, organic look.**